Getting a Chevrolet is not only a dream for elders who can have the money to buy and drive real Chevrolet Camaro but also for kids who are too young for it.  However, Chevrolet and Hot Wheels are now joining hands together to make this dream possible for kids who love to have their own Chevrolet Camaro. Kids love to play with Hot Wheels cars and therefore Hot Wheels have decided that they will come up with the Hot Wheels Camaro Concept which debuted at the 2011 SEMA Show in Las Vegas.
Hot Wheels is inspired by the Custom Camaro that was available at the show and therefore they have decided to come up with Hot Wheels Camaro Concept toy model. This project will be a collaborative team work between General Motors Design studio in Michigan and Hot Wheels Design studio in California. Each studio will first make a sketch of their Custom Camaro and then they will exchange their sketches and ideas and visions until they reach a common goal of making the best Custom Camaro toy model.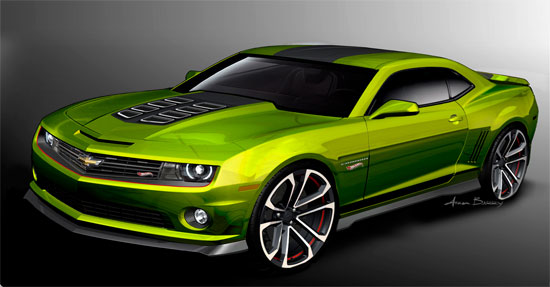 Phil Zak,  GM Design Director said that Camaro has always remained one of the best toy models in Hot Wheels list since 1968 and many generations have grown up playing the same toy models and later grown up to drive the same car for real. However, it's time that they make some changes to the new Chevrolet Camaro and make it more exciting for the next generation and for the studios as well.