Best Small SUVs
The best small SUVs come with the perfect combination of utility and off-road capabilities along with superior safety features. The small SUV buyers prefer these utility vehicles because they deliver generous passenger and cargo room, powerful performance as well as an attractive, sporty demeanor. If you are looking for the latest editions of the best small SUVs, we've got you covered! We have listed down the best small rough-and-tumble sport-utility vehicles of 2016:
1. 2016 Honda HR-V
The CR-V's little brother, the HR-V 2016 is definitely more stylish inside and out. Though it looks compact, but do not be fooled by the looks; it's the roomiest subcompact SUV in the market. Honda introduced flipping, folding, second-row Magic Seat to bring extra flexibility. Not only this, but the steering feel, brake feel and throttle response all gone better. With a seating capacity of 5, the small SUV is accessible in 8 trims. The HR-V 2016 retains a 1.8L Single overhead cam (SOHC) inline 4-cylinder engine that produces 141 horsepower @6500 rpm and 127 ft-lbs. @ 4300 rpm. The standard Honda HR-V is a front wheel drive mated to a 6-speed manual transmission with an estimated EPA 25/34 mpg city/highway. The standard HR-V provides you a rearview camera, cruise control and Honda's Bluetooth HandsFreeLink system. The sound comes from a 4-speaker/160-watt AM/FM/CD system with USB/auxiliary inputs and 5-inch color display. The Manufacturer's Suggested Retail Price (MSRP) is under $20,000 for the standard model.
2. 2016 Mazda CX-3
Another new-for-2016, the Mazda CX-3 is among the sportiest and most stylish best small SUVs. The only downside is the less roomy cabin compared to the HR-V and Chevrolet Trax. With that said, it is a fun to drive utility vehicle boasting state-of-the-art safety and convenience techs. The CX-3 2016 carries a 146-horsepower 2.0-liter 4-cylinder engine paired with a 6-speed automatic transmission. Accessible in 3 variants, each gives you an option to choose either front wheel or all wheel drive. The upscale features include a push-button starter and Mazda Connect infotainment rendering Bluetooth phone pairing, audio streaming, USB ports for phone charging and entertainment connectivity – all can be handled through a knob on the console. The EPA city/highway fuel economy stands at 29/35 mpg (FWD), 27/32 mpg (AWD). The price starts at about $20,800, while the range-topping Grand Touring can set you back for a little under $26,000.
3. 2016 Kia Sorento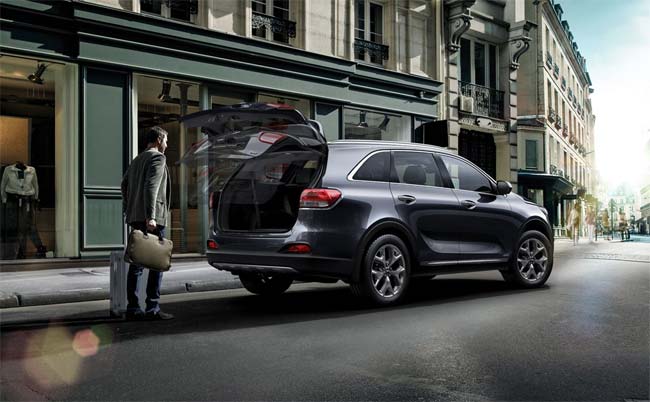 Available in five- and seven-passenger configurations, the Kia Sorento 2016 has gone better inside out, making it one of the best small SUVs of 2016. Additionally, it introduces a new turbocharged 4-cylinder engine. There are total 5 variants with 3 engine options including 2.0-liter turbocharged 4-cylinder (with 240 horsepower and 260 lb-ft of torque), the standard 2.4-liter 4-cylinder (185 horsepower, 178 lb-ft of torque, and the best fuel economy – 29 mpg on the highway) and the range-topping 3.3-liter V6 engine (290 horsepower). The standard Sorento features a 2.4-liter 4-cylinder engine, seating for five, air conditioning, Bluetooth, a USB input, and audio and cruise controls on the tilt-telescoping steering wheel. The upper trim adds a UVO, a backup camera and sound-deadening windshield glass. The EPA city/highway fuel economy is rated as 22/29 mpg (front-wheel drive), 21/26 (AWD). The standard L models starts a little under $26,000, while the LX model bumps the price to $27,000. The 2016 Sorento Limited V6 is priced a little less than $45,000.
4. 2016 Honda CR-V – Starts at $23,745
This one's your ultimate best bet in the compact SUV category. The 2016 Honda CR-V offers lots of space and comfort for passengers along with a spacious cargo area. This vehicle is the most fuel efficient in its class delivering up to 33 miles per gallon highway. The only downside is the underpowered engine. It comes with a standard 184 hp 2.4 liter four cylinder engine. The new 2016 Special Edition (SE) comes equipped with 17-inch alloy wheels, rear privacy glass and a security system, making it a very attractive family car. Get a used Honda CR-V for sale now.
5. 2016 Mazda CX-5 – Starts at $21,795
We are talking excellent fuel economy combined with some of the finest safety scores, making it one of the best small SUVs of 2016. The Mazda CX-5 is a family friendly car with comfortable backseats and a large cargo area. Of course, the utility is only enhanced by the best-in-class brakes, suspension and steering. The standard version retains a155-hp 2.0-liter inline-4 engine paired with a 6-speed manual gearbox and front-wheel drive. The auto-equipped Sport models as well as Touring and Grand Touring variants have been upgraded to include a 184-hp, 2.5-liter inline-4. In either case, the whole drivetrain is fine-tuned to deliver maximum effectiveness. The fuel economy rating stands at 26/35 city/highway. The 2016 Mazda CX-5 is a nimble little crossover SUV that you'll love!
6. 2016 Ford Escape – $23,590
This is the perfect utility vehicle if you are looking for more power in the engine department. In fact, it gives you three powertrain options. A 168 hp 2.5L 4-cylinder is standard, while the other two options include 178 hp 1.6L turbo four and 240 hp 2.0-liter EcoBoost four-cylinder for power hungry motorists. All the engines are mated to a 6-speed automatic transmission. Also included is Ford's latest Sync 3 touchscreen interface for enhanced usability and user-friendliness. It delivers 23/32 city/highway fuel economy rating.
7. 2016 Subaru Forester – Starts at $22, 395
Haul all kinds of cargo, large pets, a baseball team of kids and other variety of cargo easily in the 2016 Subaru Forester. The highly versatile small SUV offers unmatched visibility and a very sensible design.  The base engine delivers 170-horsepower employing a 2.5-liter flat 4-cylinder, while the more powerful 2.0XT has a 2.0-liter boxer, turbocharged direct-injection mill that delivers a very impressive 250 hp and 258 pound-feet of torque. There is a plenty of choice for buyers, meaning 6 trims. It also comes with an updated new touchscreen tech interface in two screen sizes, which is simple to use and delivers some great entertainment options for the entire family. Also expect the standard all-wheel drive as well as brilliant fuel economy (up to 24 city / 32 highway) along with best-in-class acceleration.
8. 2016 Hyundai Tucson – Starts at $22,700
Available in 8 trims, this one delivers strictly normal fuel economy (23/31 mpg City/Highway, and 26 mpg Combined with base engine) and power delivery that can only be called glitch. So what really sets it apart? The 2016 Hyundai Tucson is the perfect small SUV because nothing else beats its affordability. It comes with a 5-year/60,000-mile warranty and 10-year/100,000-mile drivetrain warranty. The base SE features a 160 hp 2.0 liter 4 cylinder engine paired with a 6-speed automatic. Alternatively, you can opt for 1.6L turbo that produces 175hp using a 7-speed dual-clutch transmission. So if you are looking for performance and speed, this may not be the perfect SUV. However, if all you need is comfort, space and good looks, Tucson is definitely worth a try.
Final Thoughts
Choosing the best small SUVs is a tough decision. The best in any case depends on the specific needs of the buyer. Detailed above are some of the latest and greatest compact SUVs of 2016. However, if you desire more elegance and better drive, then do check out the best midsize cars.
Choose wisely!