The new Lexus LF-SA concept seems to match perfectly on a continent dominated by small hatchbacks and oddly shaped small cars. Perhaps this is why the Japanese producer has decided to launch it at the 2015 Geneva Motor Show. Its primary goal is to celebrate 25 years of Lexus reliability. Unsurprisingly, it does look like a celebrating car.
To some people, Lexus LF-SA looks like half a car body with just 3,450 mm in length. To others, it looks extremely aggressive. One thing is for sure though – the new model aims to change the perceptions and trends in the automotive history. It comes with a series of futuristic and overlapping lines. Their light and brightness change with the angle you are in. The front grille is three dimensional, unique and looks like a piece of jewelry.
Apart from the grille, the entire front bumper carries the same sharp lines and corners. They go rounder above the wheel arches, while the two elements of the door overlap each other in a perfect collaboration. Lexus LF-SA is only 1,700 mm in width though.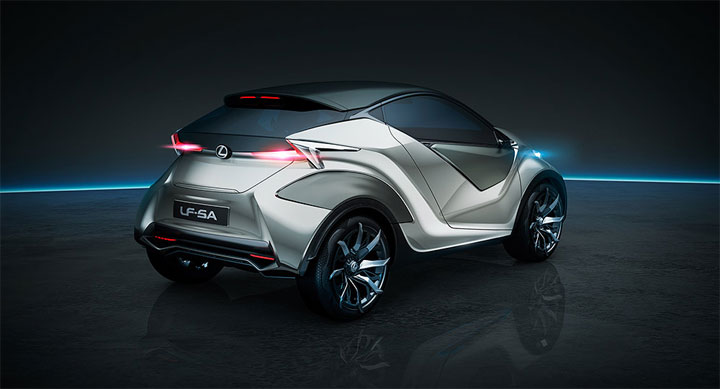 Surprisingly enough, the small concept can accommodate four people, so it is very likely to gain a lot of positive appreciation and actually make it to mass production. On the inside, a wide head-up display and holographic digital instruments add to its uniqueness. Besides, they visually increase the interior room and provide a spacious vision. It seems that the entire driving experience is focused on the driver. Despite most expectations, the driver's seat cannot be adjusted. However, the pedals are customizable for the optimal distance.
No information about the power train has been released yet. However, since LF-SA stands for Lexus Future Small Adventurer, the experts at Today Auto News expect it the fancy model to be quite powerful for its size, yet very economic.