Dubai is an ultimate attraction for luxury and super carmakers. The city that features world's tallest building and extends its territory through world's largest man made islands is the perfect place to score sales of multi-million dollar cars, which are otherwise hard to squeeze into automobile markets. Just to get an idea, check out new Audi car prices in UAE, you will realise average sports cars don't come cheap, let alone supercars.
It makes you wonder, how pricey should a car be to become too good for Dubai? Here is the list of most expensive cars in Dubai.
Lamborghini Veneno Roadster – AED 16.5 Million ($4,500,000)
The Lamborghini Veneno Roadster is the most expensive car to ever set its wheels in Dubai. Boasting a state of the art design and carbon fibre monocoque, this supercar uses carbon skin in the interior as well. Hauled by a powerful 6.5 litre V12 engine, which is able to accelerate the car from 0-100 km/h in just 2.9 seconds, before racing all the way to the maximum speed of 355 km/h. Only 9 units were made through the course of 2014, which inevitably make it world's most exclusive performance car.
W Motors Lykan Hypersport – AED 12.5 Million  ($3,400,000)
The Lykan Hypersport is the first ever car from the region, that quickly paved its fame throughout the world. The car that was recently featured with a special introduction in the 1.5 billion dollar Hollywood blockbuster, Furious 7 is a marvel of design and performance. Chesting a 3.8 litre 770 horsepower engine, it can zoom from 0-100 km/h in less than 2.8 seconds before disappearing over the road at a fantastic velocity of 385 km/h. The car was recently added to the enviable collection of Abu Dhabi Police.
Bugatti Veyron Meo Costantini – AED 10 Million ($2,720,000)
Yes, this is one of those 450 Veyrons that is not available anymore. However, this Bugatti Veyron Meo Costantini could be denoted separately, because it belongs to a limited-run 'Legends' series. The car first premiered in the UAE during 2013 Dubai International Motor Show. As of the latest, one out of those three lucky Meo Costantini is available for sale in Dubai, with a price tag of $2,720,000. The car is named after a dear friend of brand's founder, Ettore Bugatti.
Bugatti Veyron 16.4 Grand Sport Vitesse – AED 9.5 Million ($2,600,000)
Say hello to one of the fastest production cars in the world. The Bugatti Veyron 16.4 Grand Sport Vitesse broke the records of speed when no one else in the competition was even close to approximation. Flaunting a DOHC 64-valve W-16 engine, it forces out 1,200 horsepower and 1,106 lb-ft of torque to all four wheels via 7-speed dual-clutch automatic with manual shifting mode. This configuration rockets the car from 0-100 km/h in just 2.4 seconds before hitting its best at 410 km/h. Bugatti sold a total 450 cars through a decade until it finally concluded its production with La Finale.
Pagani Zonda 760 – AED 5.5 Million ($1,500,000)
After fifteen year long run, the Pagani is still not ready to overthrow its first ever supercar. Is it due to car's performance, its demand or automaker's emotional attachment to this hot-wheels, nothing can be said for sure. It features a powerful 7.3-litre AMG-sourced V12 that is able to generate 760 horsepower, instantly sprinting the car from 0-100 km/h in less than 2.6 seconds, before achieving 349 km/h on full throttle. Even with all those new Audi car models in UAE, BMW wonder cars and fantastic Ferraris, the Zonda 760 has managed to attract buyers in Dubai.
Ferrari LaFerrari – AED 4.8 Million ($1,300,000)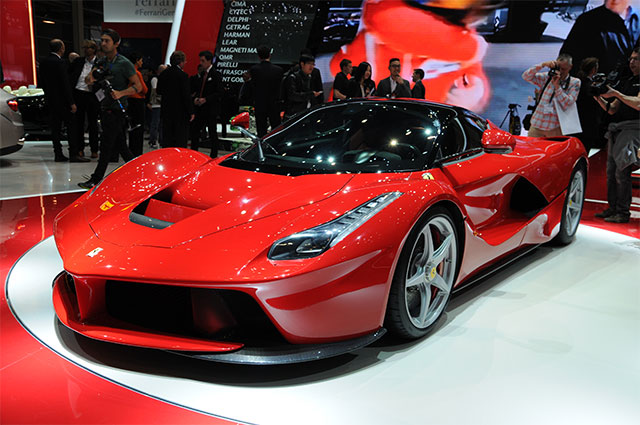 The Ferrari LaFerrari is the most exotic of all the supercars in the world, and that leaves brand-mates like Ferrari Enzo far behind the horizon. Cherishing a mighty V12 engine, which churns out a full 789 horsepower, additionally boosted by 161 horsepower from its electric motor, the LaFerrari is superfast, as well as fuel friendly with EPA rating of 13.7mpg (combined). It can accelerate from 0-100 km/h in just 2.5 seconds, which is a milestone for a hybrid sports car.
There you have it, the most expensive supercars in Dubai. If you are a car enthusiast you'd know that these are also the most expensive cars not just in Dubai but elsewhere in the world. Apart from these, Audi UAE, Mercedes, Maybach Exelero and BMW high-end luxury cars come with huge price tags.