Chevrolet was not the first American manufacturer to build a V8 engine, that distinction goes to Cadillac (1914), but Chevrolet certainly has built the most famous one.  Today some 105 million V8 engines of varying displacements have been built by Chevrolet and the tradition continues today.
The story of the Chevrolet V8 goes back to the early 1950s. These were the days of cheap gasoline and beginning of the horsepower wars. 1953 was the year that Chevrolet introduced the Corvette sportscar with a reworked version of their inline 6 cylinder engine.  Renamed the "Blue Flame Six", this hopped up 235 CID engine put out a tepid 150 HP.  When rumor hit GM that Ford was going to introduce an overhead valve V8 in 1954, GM rushed an overhead valve V8 into production.  One of the driving forces was that Ford's emblematic sports car, the Thunderbird, was being outfitted with a sporty V8 and Chevrolet had an old fashioned, in-line 6.  This detail was a major market issue because horsepower was king and sales of Chevrolet's Corvette lanquished.
In 1955, Chevrolet introduced their 265 CID V8 engine to great acclaim. It was rated at 195 HP and was available in most Chevrolet model cars.  At this point, horsepower wars officially among Detroit steel took off and increasing engine power became marching orders for decades.  In fact, just one year after the 265 was introduced, in 1956 the 265 engine HP was increased to 225 and in 1957 the engine was bored out to become 283 CID.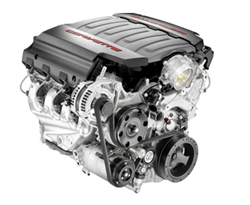 Those that know Chevrolets will easily recognize the following engine displacements: after the 283 came the 327 and soon thereafter the 350.  When fuel economy concerns finally caught up with the industry in the 1970s, less powerful engines such as the 307 evolved.  Today, Reedman Chevy, Philadelphia's top car dealer tells us that the fifth generation of the Chevrolet V8 is being designed and it's a thrifty engine.  First, It has been reported that Gen 5 LT1 will be offered 450 horsepower with 450 lb-ft of torque so it's a power beast but this engine is not all about power.
It is lighter and more fuel efficient than its predecessors. The secret to the fuel economy boost relates to GMs new cylinder deactivation technology which actually switches off cylinders when the power demand is low.  Effectively a 6.2 liter v-8 engine then switches to a 3.1 liter v-4 engine with the result that the fuel economy is bumped up an amazing 20%.  In fact, Chevrolet states the base C7 Corvette will deliver some 26 mpg while cruising along on the highway.  This is the finest gas mileage of any V8 in the 60 year history of Chevrolet. A green Corvette, talk about an oxymoron, but in 2014 that is what GM has planned for us.