Since it featured in Michael Caine's 1969 classic The Italian Job the Mini has driven its way into the hearts of a nation. The car played a key role in that movie and has played a key role in British culture ever since. In fact, you will find that Mini's are still around in abundance today. Sure, they have enjoyed something of a rebrand in recent years, but they still maintain much of their classic status.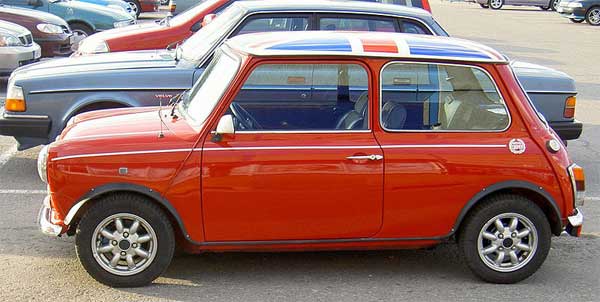 Image credit: commons.wikimedia.org
There could be many reasons why the car is so much a part of the nation and its culture. It's got that classic look about it that conveys everything that Britain stands for. It is simple and elegant, but at the same time it is strong and wonderful. It seems certain that the mini will thrive through the next few decades as well.
The company decided to rebrand in recent years to give the car a fresher and more contemporary appeal. This has opened it up to a whole new generation of enthusiasts. It was thought the original car had become perhaps a little old and dated. The fresh, modern look of the new style Mini has been a turning point for the company.
It's also worth looking at the car from a driver's perspective. It is a nippy, durable and powerful little number. It's the perfect car for singletons and couples alike. But in recent years it's also proven itself to be a useful car for young families too. As you will see from visiting CooperMini, there are plenty of models to choose from. And people like to have a range when they make a decision about their car.
Another great benefit of the Mini is its price tag. Since Britain went through the recession of 2012 money has been a lot tighter. And many people have been looking to downsize their cars for something less expensive. The Mini offers affordable driving but also presents a quality product at the same time. Furthermore, in times of trial people often look for symbols of hope to strengthen their resolve. And this is something the Mini dutifully provides for the British people.
Image credit: commons.wikimedia.org
When people buy a car, they don't just want a body and four wheels. Of course, they want a vehicle that will get them from A to B. But they also want something with personality and character. And that's why a car like the Mini has continued to endure through the decades. They have established themselves among the most reliable car manufactures in the world.
It seems certain that over the coming years the style and sophistication of the updated models will leave a lasting impression. Sure, the number of celebrities to own the car through the years has contributed to its appeal. But it's also worth remembering that the car is a powerful reminder of a time when vehicles did what they said on the tin, and looked good doing it.
So if you're looking for your next car why not choose something inherently British? Why not go with a Mini? There are far worse choices you can pick, and you'll add some British flair and beauty to your life.