A white McLaren 60S Spider recently ended up in a solo crash on an Austrian highway in the Eselstein tunnel. The accident took place in wet conditions, which are probably the cause of this collision. The driver lost control over the vehicle and it crashed into a guardrail. While the driver suffered only minor injuries, the front of the car was severely wrecked.
This is not the first accident reported for the McLaren 60S Spider, which was officially revealed at the Geneva Motor Show earlier this year. Another accident of the supercar took place in June when a customer was test driving it in Singapore. The 60S Spider carries a 3.8L V8 twin-turbocharged engine generating 641 hp and 500lb/ft of torque. This powerful engine allows it to accelerate from 0-100 km/h in a mere 3.0 seconds and it hits a top speed of 328 km/h.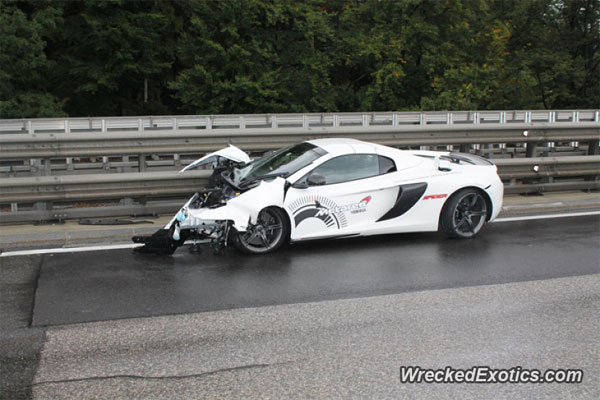 Recently, a Ferrari 458 has also been reported to lose control due to wet conditions, during a test drive in Germany. These accidents should be an eye opener for supercar owners, who need to realize the importance of driving carefully. No matter how expensive and fully loaded a car is, it is the brain behind the wheel that controls it.