Take a look at 3 of 6 cars that Infiniti has termed to be "future vehicles." Which they truly are, as our nation has strived off of innovation, discovery, and technological advancements. The vehicles that premier phenomenal new car features will be remembered for their excitement. Their highlights are as followed (information gathered from JBA Infiniti of Baltimore) :
2014 QX60 Hybrid
Supercharged 2.5-liter inline 4-cylinder with electric motor powered by a compact Lithium-Ion battery. That produces power at eye level with a 3.5-liter V6, yet having 4-cylinder fuel economy making it best-in-class fuel economy. Supported by regenerative brakes, and Continuously Variable Transmission. But with great power comes great responsibility. The engineering may be vicious, but to function in society you have to have a warm exterior that is seen in the QX60's signature design craft. Curvaceous on the outside and cushioned with fine luxury and space on the inside. A maximum of 7 passengers will be able to bask in the creativity put forth in this vehicle.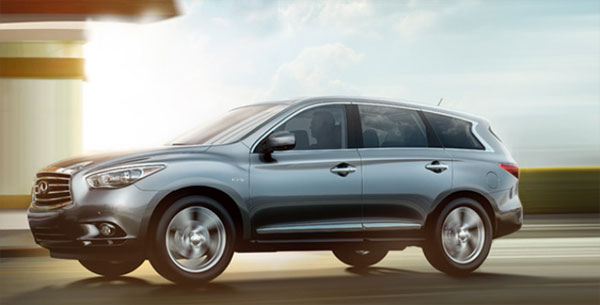 Infiniti Q50
The Infiniti Q50 pushes 328hp with its 3.7-liter V6 engine. Dropping the "G" for the new naming strategy of adding a "Q" from (G37 to Q50) isn't the only debut on the new generation of the G37. The Infiniti Q50 premiers "Direct Adaptive Steering" the new "I-key system" and "Active Lane Control"
Direct adaptive steering- allows manual control of wheel angle, and steering depending on the drivers enthusiasm. Four optional settings for steering effort and ratio.
I-key system – stores preferences as followed: driving position, heating and cooling, audio navigation for up to 4 different drivers.
Active Lane Control – sensors that detect changing road surfaces, crosswinds, lane markings, and road conditions.
Infiniti LE concept
Thee LE concept features very advanced hands free wireless charging. Intelligent Park Assist automatically guides the vehicle into the perfect position over the wireless charging pad.  It presents zero tailpipe emission because of its electric propulsion feature. LED Infiniti EV Blue lighting throughout the interior and exterior layout.
The vehicle has 'no tailpipe, exhaust, or gas tank' and is equipped with brand spanking new technology. 2014 this vehicle will hit the market and the world. If it's hard to wrap your head around what's going on in the LE concept, remember that it's family members the Infiniti Q50 and the QX60 will be arriving around the same times also, so brace yourself! Infiniti does not believe in stopping their innovative streak. It's all in their slogan 'Accelerating the Future'.