Bloodhound, the British 1,000 mph Land Speed Record (LSR) project, has been on hold since last year. However, the company did complete SSC (supersonic car) and tested it before they were financially drained. The good news is that Geely Auto, the Chinese car maker, has come for the rescue and would be assisting in modifying aerodynamics including the rear-wheel fairings, and the alterations to the rear suspension as well as providing cash and other project updates.
Bloodhound will start the project from where they have left off and would attempt 800 mph land speed record in October 2017 in South Africa. If that goes well, the team will stab to make it better cracking 1,000 mph in 2018. It is worth mentioning here that the current land speed record was made in 1997 where fighter pilot Andy Green got behind the wheels of Thrust SCC and attained 763 mph unbelievable speed. He would be the one again making an effort for the 800 mph record.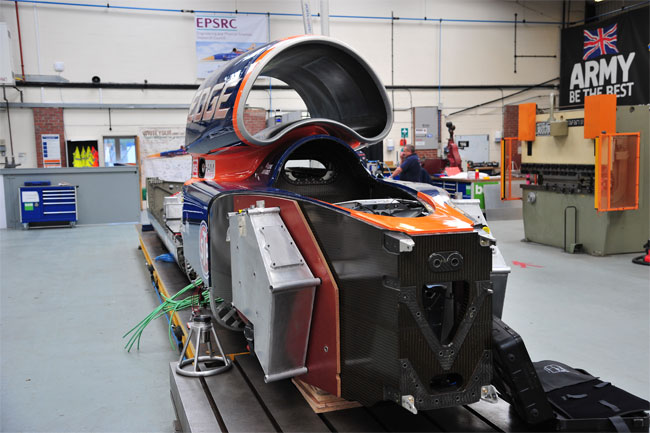 Geely has signed a three-year contract with Bloodhound where it would be providing the necessary technology to construct the new SSC. The decision was made by Geely's founder and chairman, Li Shufu during his visit to the Coventry Transport Museum's Land Speed exhibition. Other project partners include Jaguar (technical), Rolls-Royce (aviation), Castrol, Lockheed Martin and Thyssen Krupp.
The current Bloodhound SSC has a Rolls-Royce EJ200 jet motor, a collection of customized hybrid rockets built by defense firm Nammo, and the 800bhp Jaguar AJ133, five-liter F-type V8 that's there to thrust a hydrogen peroxide oxidizer into the rocket. It is now in pieces and requires some thoughts for final build up. The last time we saw it was in September last year in dry-built form.  Once rebuilt, the team will go for a shakedown test before finally heading to Hakskeen Pan in the North of South Africa in October.