Drool Drool!!! Fasten your seat belts, clutch your hearts, hold the wheel…here we go in the world of our Crazy "Ever" Sexy Cool Cars. The cars, mentioned below are most luscious I've ever found! If you're going to see the pictures of these cool and sexy fast wheels, you need to get ready mentally, I'd say you are going to loose your mind – be careful!
The first, the sexiest, the coolest, the craziest and my sweetest jaw-dropping super car is Ferrari Enzo based on the Millechili concept. The only 1,000 kilos Millechili by Ferrari would really grasp your mind which is lighter than Mazda Miata. It could be the lightest and fastest vehicle ever to roll out of Maranello. This super machine is loaded with V10 engine which have won five consecutive F1 championships!
This concept car will shake your concepts with its wonderful fuel economy and the insane performance or with only its cool and sexy look, YES! It is Audi's R8 V12 Diesel. This high-tech demon gets 24mpg and does 0 to 60 in just 4 seconds. The Audi R8 TDI concept machine produces superb torque when you push the acceleration paddle.
Its BMW's turn now!!! The sexy prototype of M1 Hommage designed for the BMW is fast, smooth and easy to drive car that gives impression of a race car redesigned for the street use. It is reviewed as the world's first truly user-friendly car having just less than an extraordinary engine. This BMW machine's six cylinder engine is appearing in the M3 and M5 cars.
Citroen C-Metisse concept is the next in the hit list that have all essential features to rate it as Cool, Crazy and Sexy car. This masterpiece of art is hybrid car and features diesel and engine with four scissor doors. There is nothing except to install hydro pneumatic suspension to make it cooler. You would be in love with this sexy car.
Finally, Honda got an affordable sexy hybrid machine that is Honda CR-Z concept car. Honda is ready to manufacture this type of gas-electric sports car that it has been showing off for more than a year. This luxury hybrid sports car is very well designed to give it really cool and crazy look from both front and the rear.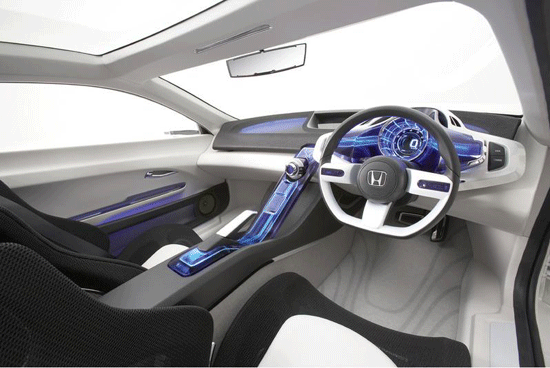 Talking about cool and sexy hybrid cars, it is must to discuss about one of the coolest cars, the Toyota Prius. The industry is trying to convert this pretty sexy hybrid car to a plug-in capable of 100 mpg although, it is hard to have it until 2010, an automaker said. Toyota Prius is a popular hybrid car that has made it way in the crazy sexy cars, beating many luxury and super cars.
Lamborghini Murcielago LP640 is one of the super cars that are the hallmark of speed, performance, beauty and luxury. The Murcielago LP640 gains speed from zero to 60 mph in just 3.3 seconds with its powerful V12 engine. This car is very beautifully and carefully manufactured to provide optimum level of performance to its driver.
Ford Verve concept vehicle is another beautiful example of cool, crazy and sexy cars. Ford has raided its European stable to design the Verve which belongs to the sedan class. This beautiful and small car will arrive in 2010 that doesn't look cheap and it was displayed at Detroit Auto Show. Ford Verve is one of the most fuel efficient American cars. "The Verve is just a concept, but it's a pretty clear window into our future," said Jim Farley, vp of marketing. "
The famous superstar, movie star and a real super car, the Aston Martin DBS is really a jaw dropping, crazy, cool and of course a super sexy car. Everyone wants to have this powerful, luxurious and high performance sports machine. Loaded with high torque and acceleration producing V12 engine, this beautiful car go from 0 to 60 mph in less than 3 seconds.
In the end the Lincoln Concept C Car is the one that falls in the 10 crazy ever sexy cool cars category. YES! Lincoln Concept C Car really deserves this hit cars list. This car is specifically designed to target sophisticated women with its sleek look of seats and dashboard. This high-tech luxury car is equipped with an in-dashboard computerized Human Machine Interface (HMI) personal assistant, "Eva". This beautiful car features a luxury and very beautiful the "art museum" interior and without this it just look like boring mini cooper.